Main menu
---
To create a main menu, you should add items to the Moodle custom menu.
→ Navigate to Site administration > Appearance > Themes > Theme settings > Custom menu items to configure your main menu.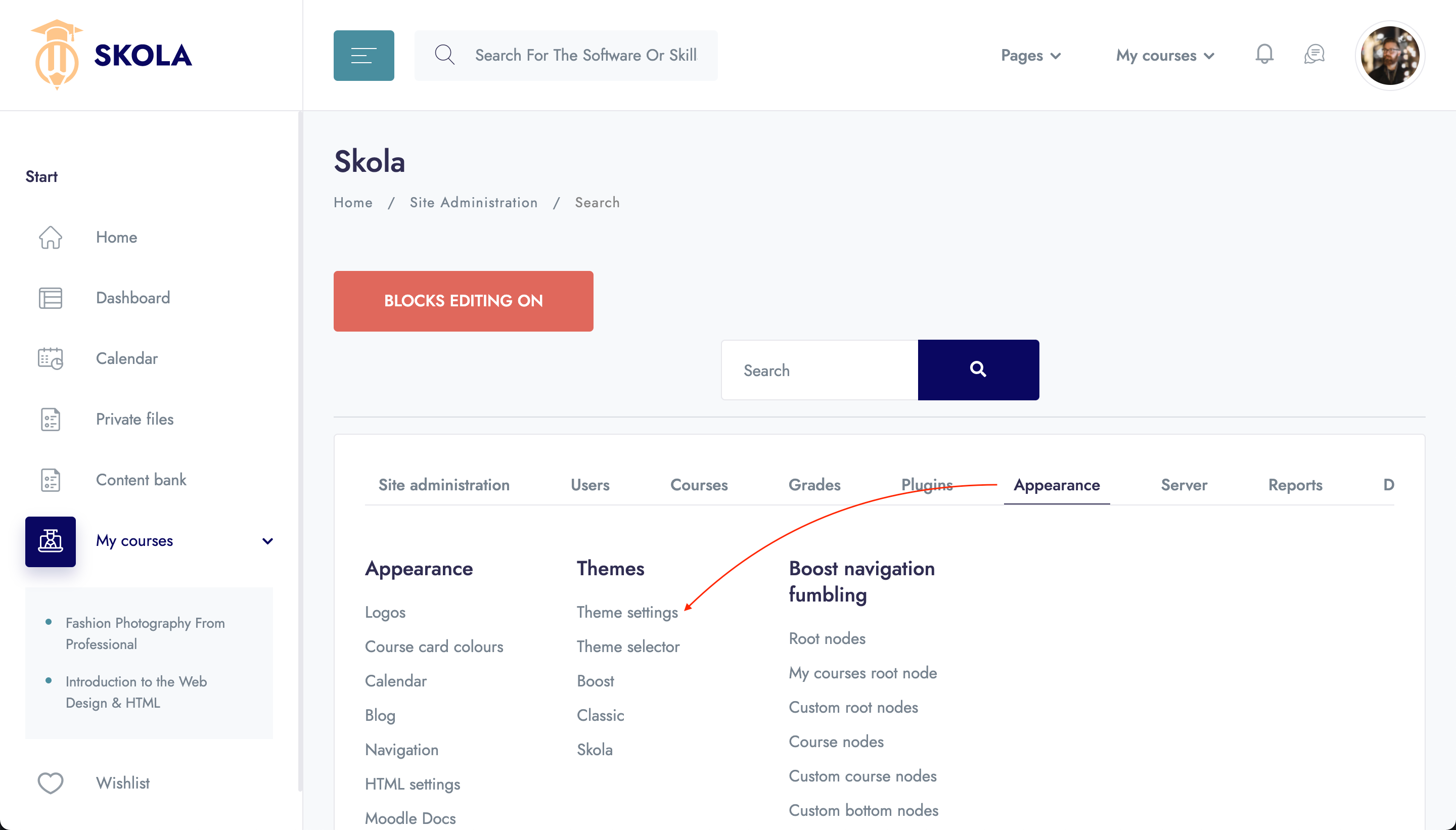 Modify the items in the 'Custom menu items' field to alter the main menu: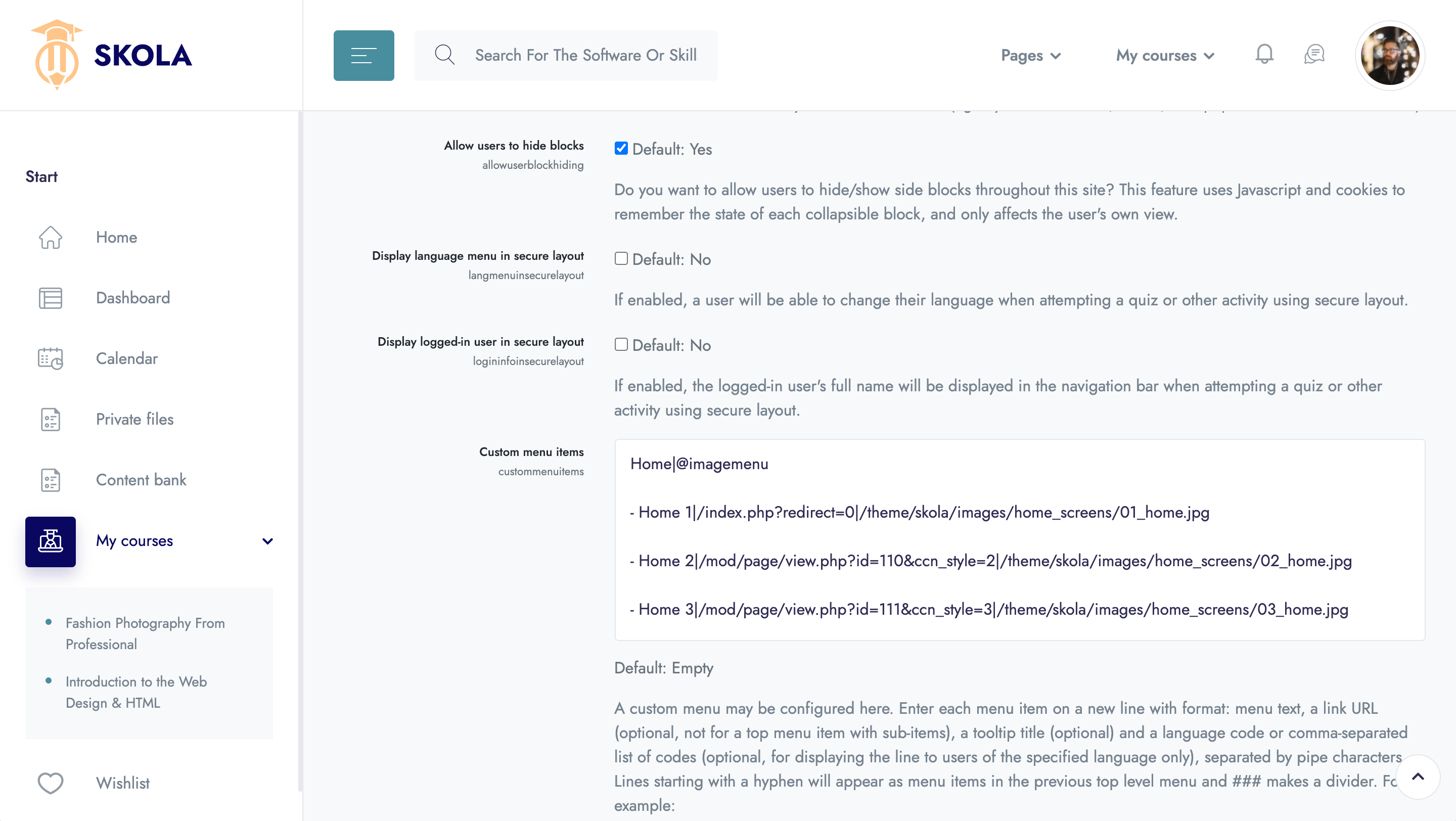 Multi-level Dropdown Menu
To create multi-level dropdowns in Skola, simply inlude an additional hyphen before the sub-menu item (increase the indentation):
Pages|#
- About Us|/mod/page/view.php?id=124
- About Us v2|/mod/page/view.php?id=125
- Become an Instructor|/mod/page/view.php?id=131
- Pricing|/mod/page/view.php?id=130
- FAQ|/mod/page/view.php?id=126
- User|#
-- Login|/login/index.php
-- Register|/login/signup.php
- Coming Soon|/mod/page/view.php?id=140
- Terms & Conditions|/admin/tool/dataprivacy/summary.php
- Elements|/mod/page/view.php?id=139

Mega Menu
Skola includes mega menu functionality which can be activated by setting the parent menu item's URL as '@megamenu'. Use hyphens to increase the level of indentation and create grouping within the mega menu.
Courses|@megamenu
  - Courses List
    -- Courses List v1|/course/index.php?categoryid=3
    -- Courses List v2|/course/index.php?categoryid=4
    -- Courses List v3|/course/index.php?categoryid=5
    -- Courses List v4|/course/index.php?categoryid=6
    -- Courses List v5|/course/index.php?categoryid=7
    -- Courses List v6|/course/index.php?categoryid=8
    -- Instructors
    -- Instructors List|/local/cocoon_users
    -- Instructor Profile|/user/profile.php?id=22
  - Courses Single
    -- Course Single v1|/course/view.php?id=11
    -- Course Single v2|/course/view.php?id=10
    -- Course Single v3|/course/view.php?id=9
    -- Course Single v4|/course/view.php?id=8
    -- Course Single v5|/course/view.php?id=7
  - Other Course Pages
    -- Free Course|/course/view.php?id=4
    -- Paid Course|/course/view.php?id=5
    -- Topics Format|/course/view.php?id=11
    -- Social Format|/course/view.php?id=10
    -- Weekly Format|/course/view.php?id=9

Image Menu
Set a parent menu item's URL as '@imagemenu' to enable the image menu functionality:
Home|@imagemenu
  - Home 1|/index.php?redirect=0|/theme/skola/images/home_screens/01_home.jpg
  - Home 2|/mod/page/view.php?id=110&ccn_style=2|/theme/skola/images/home_screens/02_home.jpg
  - Home 3|/mod/page/view.php?id=111&ccn_style=3|/theme/skola/images/home_screens/03_home.jpg